We at Coastal Inns always love getting testimonials and letters of thanks from our clientele.
Please free to fill out the form below completely to submit a testimonial to us. You can even add a photo of yourself.
All testimonials are review and validated before being posted on our website.
While between homes in March 2021, I stayed in one of the recently created extended stay suites for two weeks and it was a great experience!
The staff were all very friendly and helpful (I needed a large area to work from so they immediately brought me an extra table), the suite was very clean and nicely decorated with paintings from local artists, and there was plenty of room for all the extra bags and suitcases I brought.
The suite consisted of a large bedroom with a full bath, living room with kitchenette (spacious counter with fridge, microwave, coffeemaker, and hot plates), and an additional half bath. Lots of closet space in the bedroom and a closet next to the entrance for coats.
The gym and indoor were open and very clean (with a limited number of guests due to Covid-19), the vending machines were well-stocked, the washer & dryer in good working order, and the receptionists were available for some printing and copying I needed.
Parking was always available, the wifi worked well, and the two televisions seemed brand-new.
The hotel's location is another asset: within minutes from downtown, next to the mall, grocery stores, and the Riverfront walking trail.
I definitely recommend you check it out for your next stay in the Greater Moncton Area!
Fantastic Accommodations!
From the beginning of our stay my family and I have felt like we were at home! Between the Manager, concierge and cleaning staff we have felt like family!
A thank you is the least we can do for the great staff at the Dartmouth Coastal Inn. They are professional, welcoming, compassionate and very considerate. The rooms are comfortable, quiet and clean. The cleaning staff are super friendly and really go out of their way too make your stay as freeing as possible!
Without a doubt we would stay here again! We would really like to give our gratitude to everyone at the Dartmouth Coastal Inn.
Until the next time!
From my family to yours,
The Reichard Family
Our second home
When in Dieppe, Coastal Inn is our second home.  Hospitality at it's best!
Dr. Ken & Aurea Nickerson
Bon Acceuil et Service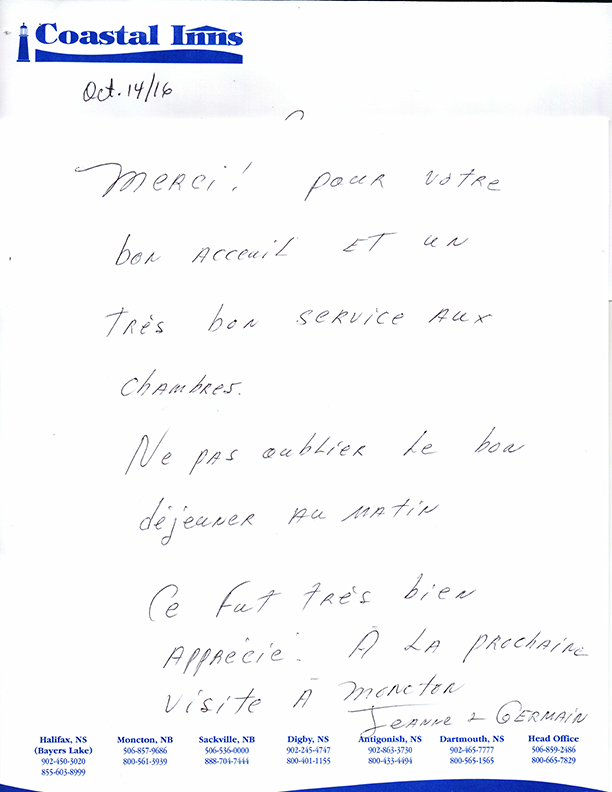 Merci! pour votre bon acceuil et un tres bon service aux chambres.
Ne pas oublier le bon dejeunier au matin.
Ce fut tres bien apprecie.
A la prochaine visite a Moncton
Jeanne & Germain
Coastal Inn Moncton Testimonial